Snapshots of 2016
Winter QUARTERLY NEWSLETTER 2017
February 9th, 2017 by Kate Smith | | Posted in Field Updates
Growth in nearly every measured area of ministry activity has helped make 2016 a year in which the kingdom work continued to grow deeper and wider, even in the face of ongoing challenges.
You have stood with us in prayer waiting to hear of our brothers and sisters' safety during the devastating flooding in Bihar. And you have rejoiced with us to hear that with your help we distributed 12,375 Bibles to those who have never owned one before! Along the road last year, together with you, we weathered economic, social and natural challenges and the Lord strengthed our faith as we reached and exceeded the goals we had set out to accomplish for his kingdom.
In 2016, 7,594 new churches were planted, which means that 7,594 more villages now have a group of vibrant, Bible-believing, witnessing believers – meeting weekly, worshipping Christ, planning ways to bring even more life and hope to their regions. We had reports of more than 130,000 new believers being baptized! What an amazing testimony of the Holy Spirit's work! 
Sharon Hospital was revamped to include a new Palliative Care Center, one of just a relative few in South Asia. Tele-medicine centers were also established in eight new areas, providing healthcare access to impoverished villagers.
But this year has not gone by without its own significant challenges. Throughout South Asia, believers (and pastors in particular) continue to face pressure from both radicalized groups and from various levels of government. 
In November, the Indian government unexpectedly removed 500 and 1,000 rupee currency notes from circulation, resulting in widespread panic and difficulty for people in poorer and more rural areas. This shift impacted IGL's micro-credit program and the building of Life Centers and water wells, which all rely on cash. 
Southern India faced disastrous cyclones in December, toppling cars and buildings alike, flooding neighborhoods and creating significant humanitarian need. But through all of these challenges, the Lord's grace prevailed. 
The Good News has spread farther, wider and deeper into unreached regions than we could have expected. Aware of your steadfast prayers, pastors on the frontlines are encouraged to continue standing firm in their faith, carrying on the kingdom work. 
Believers across South Asia are grateful for the life-changing work the Lord is doing in their lives and their communities. And your partnership is a vital piece in that transformation, as one small congregation in central India can attest.
THE MULTIPLICATION EFFECT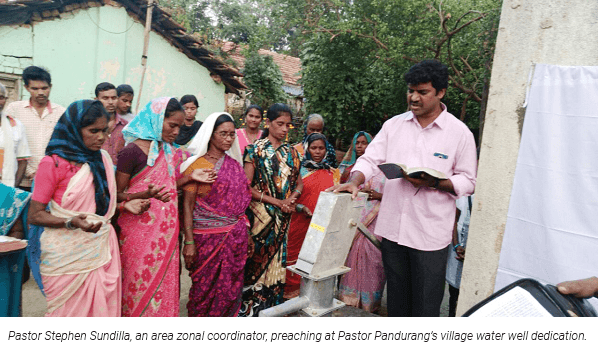 In November, 35 believers from a young church in central India gathered to celebrate the unveiling of a newly dug water well. Pastor Pandurang, director of an area Bible school and pastor of three village churches, shared his testimony with those assembled to remind them of how merciful the Lord can be. 
As a young boy, Pastor Pandurang was very religious, observing all of the Hindu rituals and holidays. As he grew older he began using drugs and alcohol. That behavior soon led to gambling and he lost all he had to his name. He quickly became known around the area as a trouble maker.
"Peace was unknown to me, and I couldn't find any hope for my personal life."
-Pastor Pandurang
One night as he was leaving his house, a woman he thought was a prostitute called him over to talk. Much to his surprise, she began to tell him about Jesus! After their conversation, she asked him to meet with a pastor in the area. The pastor invited Pandurang to a prayer meeting that changed the whole course of his life. As he listened to the heartfelt prayers of the believers, he was deeply moved by the Spirit and began to cry bitterly. That night he gave his life to the Lord and pledged to serve the Lord with everything he had. 
Today, Pastor Pandurang's testimony has multiplied into many other people brought to Christ through his ministry!