The Enormous Task: Millions & Millions of Kids
Spring Quarterly Newsletter 2017
April 11th, 2017 by Kate Smith | | Posted in Field Updates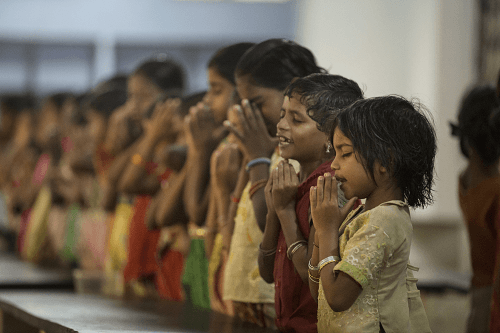 "How can I turn this child away?" Many house parents and school teachers are continuously faced with this question.
Time and time again parents have come to India Gospel League's schools and children's homes desperate for help, looking for a better life for their children. Parents in rural India often struggle to provide for even their children's basic needs like food and clothing. Many are either uneducated or undereducated and have jobs that force them to live on less than $2 a day (25% of them, to be exact). But they long for their children to grow up and have a future – to break this cycle of poverty.
So, they knock on our door, and once again that painful question arises, "How can we possibly care for all these children? Can we take one more?"
We believe that God has unlimited resources, and so, based on our confidence in Him, we have decided never to look into a child's face and say, "We don't have room for you." We make room. And we pray constantly for the Lord's provision to continue caring for these children.
Today, more than 1,000 village children in our care are sponsored by generous donors — a number worth celebrating! Yet, we have more than 7,000 additional children who we have taken in on faith. And, amazingly, God has provided.
As you might imagine, day-by-day, the need grows. Loving one more eventually means loving one hundred more, and then a thousand more, and so on.
So, as a part of our larger IGL family, would you be interested in partnering with us to love these children? A picture of one (or more) of those 7,000 could soon be hanging on your refrigerator door – all you need to do is indicate that you'd like to join in this mission!
In this context, loving one more costs just $30 per month, and loving ten more would mean a $300 per month commitment. These are kids with so much potential, so much of life in front of them, and to be a part of their lives is among our greatest joys as a ministry. We are sure, if you join in this mission with us, it will be a great joy for you as well!
Will you join us in loving one more in South Asia?
Through IGL, there are many ways to share the love of Christ with children, from funding "Children's Gospel Clubs" to building children's homes that house orphaned or needy children. A great place to begin is child sponsorship, as outlined below.
Sponsor a child