Child Care Update
April 2017
May 16th, 2017 by Kate Smith | | Posted in Field Updates
Visit to Grace Emmanuel Home
By Rebecca Stanley, Director of Children's Ministries, IGL
It was a joy to visit the children at the Grace Emmanuel Home in early April. The children are happy, healthy and, more importantly, growing in Christ! This visit was a tremendous encouragement and assurance that we are accomplishing our mission of not simply running a home, but raising leaders for tomorrow.
In our ministry it is our priority to ensure that every child has an opportunity to know Christ and follow him. While these little ones come from extremely challenging situations and environments, their greatest need is not just physical care. Each of these children has a deeper longing for love, hope and joy. Only Jesus fills that desire as he invites "the little children come to me."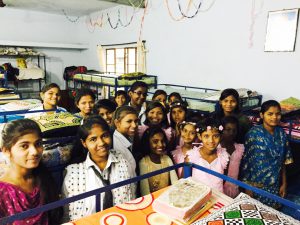 This children's home, like others, is a bridge that connects these children to the good news of Jesus. That good news can change their lives, eternities and even breathe life into their families and communities. Over half of the children I met at the Grace Emmanuel Home had already committed their lives to full time ministry. What a joy!
There is no doubt that these children will go out and be world-changers, leaders influencing and transforming their communities.
Join me in praying for
Superintendents Mary Grace and Stephen who lead this home.
Sponsorship for these children.
Resources for a new playground.
The house parents as they nurture and care for the children each day.
Meet Meena!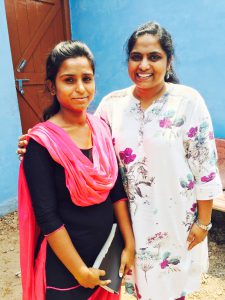 Meena Alwal came to the Grace Emmanuel Home when she was in 5th grade. She had just lost her father and was brought to Grace Emmanuel by her mother who could not support Meena with her wages. Meena stayed at the home until she finished her 10th grade year.
Meena accepted Jesus when she was in her 7th grade and has been passionate about sharing Jesus since that day. After 10th grade she applied for general nursing courses and is currently working on her nursing training today. She is supported by her local pastor Suman Janekar and is actively involved with other young people in her church as she leads their children's ministry
She is just one example of the many children in our program that go on to impact and invest their lives back into the very program and mission that introduced them to Jesus. I was in Meena's village recently for a Life Center Dedication and it was a joy to personally meet her and be encouraged by her story.
Highlights
Several special programs were organized in different IGL homes this past quarter, here are some highlights: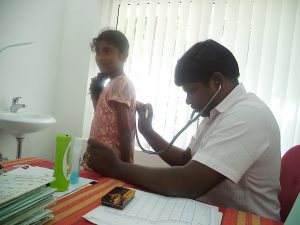 Each Saturday, medical screening camps were conducted. These allowed us to regularly monitor each child's health. This past quarter alone, a total of 655 children in 10 different homes received medical care through these screenings.
Children in 10th and 12th grade took their final exams in April. After these exams each graduate received career guidance counseling to help motivate them for higher education and to help them choose their career track.
At the Rebekah Home, the children participated in a "Clean India" campaign organized by the DCPO of Trichy. This program encouraged children to become responsible citizens, and their efforts were greatly appreciated!
Easter Celebration at Sharon Home
Easter is a special time of the year that reaffirms our hope in Christ. The resurrection of Jesus Christ is vital to the Christian faith and we love to share Jesus and this hope we have in Christ as we celebrate Easter with the children in our homes and childcare centers.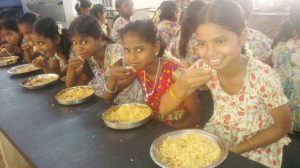 Easter preparations began Saturday evening when the children and staff in the Sharon campus decorated the Thomas Chapel. On Sunday morning, children woke up early for the sunrise service and got dressed and ready for church. It was a beautiful service. The children sang praises, shared testimonies of what God had done in their lives and surrendered their lives to God with grateful hearts. Following the service, children enjoyed delicious chicken biryani and payasam for desert.
That evening, a special prayer time was organized for the children to pray for their sponsors. It was important to them to pray and remember their sponsors on such a special day. It was their special way of saying thank you to those who pray, support and love them.
Superintendents Meet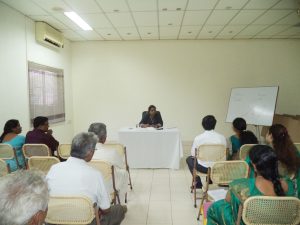 At the beginning of each year, superintendents from the Children's Homes gather for a day of prayer, review, planning, and training. The February meeting opened with prayer and a devotion lead by IGL President, Rev. Samuel D. Stephens. Following this time of devotion, Rebecca Stanley, Director of Children's Ministry, urged the superintendents to set aside special days and times of prayer in the homes since this year's focus is prayer. Dr. Herbert Samuel also trained the leaders on how to teach and present God's Word to children.
There are three special times set aside each month for specific prayers. On the first day of each month, the children gather and pray for other children in India.The second Saturday of each month is set aside in the children's homes for fasting and prayer. On the third Saturday of each month child sponsors, IGL partners and prayer partners are lifted up in prayer.
Personal Testimony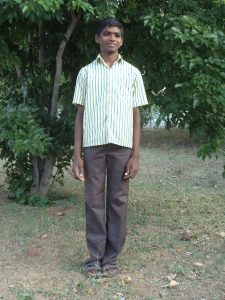 Dhanasekaran is currently in 9th grade and has lived at the Rebekah Home since the 1st grade. His father Ponnan passed away, leaving only his mother and his older brother, Poovayi. After finishing 8th grade, Dhanasekaran began working for daily wages as a builder.
He says, "When I first arrived I was very shy and did not make friends with the other children in the home. As time went on I saw the manner in which the children behaved and the things they learned. I started to be able to trust them and then I quickly made friends. I am grateful for the guidance and encouragement of my pastor. It is he who taught me about Jesus, and he taught me how to pray."
This January during the Republic Day Celebration, Dhanasekaran participated in the 400 and 800 meter track events, as well as the long jump field event. He was nervous about participating in the events, but he prayed and asked God to give him courage and the right spirit to compete. With God's help he won 2nd place in all three events in which he participated.
Dhanasekaran's desire now is for his family to accept Jesus as their personal Savior, and he is praying for them. Will you join him?
Praise
Praise God for his grace, protection and provision over every child and staff member.
This past quarter eight new sponsors have enrolled in IGL's child sponsorship program. We praise God for these wonderful partners who are committed to praying and supporting their sponsored kids as they journey through childhood.
Praise God for the dedicated team of the IGL Children's Ministry both on the field and in our administrative office.
Prayer
Please pray for the Children's Gospel Club Programs that are currently underway in the children's homes, child care centers and in the hundreds of villages across India. The goal this year is to disciple 870,000 children.
Many of our children's homes face scarcity of water, especially in the summertime. Please pray that God would provide much needed rain and that we would be able to provide additional wells in the homes.
At the Grace Emmanuel Home, children are praying for a playground and want to request your prayer that God would provide for this need.
Fifty children from different homes have enrolled in the Summer Leadership Training Program. Please pray that God will prepare the hearts of these little ones.