Meet Meena!
May 18th, 2017 by Kate Smith | | Posted in Field Updates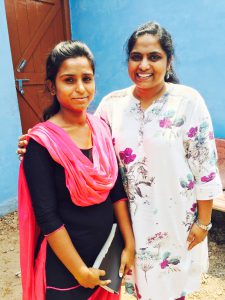 After Meena's father passed away, her mother had a difficult decision to make: try to support herself and her family on her meager servant's wages or enroll her daughter in a home where she would get all the care she needed – food, shelter, clothing and love. But as Meena's mother struggled to put enough food on the table for even one meal a day, her decision became clear. In order to give Meena an opportunity for a better life, she would need to admit her into a home.
 
Thankfully, the pastor in Meena's village suggested they consider one of IGL's Children's Homes, Grace Emmanuel Home. Soon after, at the age of 10, Meena moved into the home and began receiving an education, a safe place to sleep, three meals a day, new clothes and the love and care of Christian house parents.
 
Meena flourished in her new environment. She had the opportunity to study her favorite subject in school – science – and she made many new friends! Most importantly, she met Jesus while at the home. It was during her 7th grade year, after hearing about God and his offer of salvation because of his Son's death on the cross, Meena began a personal relationship with him. Now not only was she passionate about science, but she was passionate about God, too!
 
Today, at 17, she's already enrolled in nursing school and leading the children's ministry in her local church. She hopes to use her gifts to nurture others back to health and provide comfort and joy to children who need Jesus' love.
 
She, along with so many others before her, is impacting and investing in the lives of children by sharing Christ's love with them. What a joy it is to see these young adults with a heart of compassion for children and a desire to see them come to saving faith in Jesus!