A Young Girl with a Big Vision
June 1st, 2017 by IGL Admin | | Posted in Encouraging Stories, Field Updates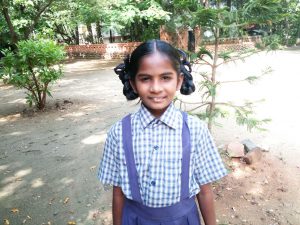 "I have to live like Jesus to change the world." 
And that is exactly what Jothika plans to do. 
At just 11 years of age, Jothika already has big aspirations for her future. As she watched her own teacher serve her and her classmates, she realized one of the best ways to change the world is to impact its children. So, one day she hopes to teach underprivileged children just like her.
"I am so impressed to become a teacher by looking at our teacher Jasmine, she is patient enough to handle all students and clears all doubts," Jothika said. 
Jothika's parents both work long, hard days toiling in the fields. But without enough income, they were unable to support their family and provide Jothika with a Christian education. Her home village is also deeply dominated by the Hindu religion. So her parents chose to enroll her in IGL's Sharon Home where she could learn more about Jesus and become like him. 
It has been six years since Jothika moved into the children's home, and her life is now filled with opportunities she wouldn't have had otherwise. Her favorite part of the day is spending time in prayer and reading God's Word early in the morning with her friends. Jothika also feels blessed to communicate through written letters with her sponsors in the U.S. 
Jothika still has several years of schooling ahead to earn her degree and begin working as a teacher. But we love her big vision to follow Jesus' footsteps, changing the world one child at a time!