Basket Weaving Changes a Life  
July 21st, 2017 by Kate Smith | | Posted in Field Updates
What if you had to wake up and look for work each morning? And even if you found something, how would you feel knowing you were not promised more work the next day? How would you feel on the days when you return home to your family with nothing, unsure of when or from where your next meal would come? For families in rural India, the daily work routine is unlike anything we know in the West. Due to dirt roads (sometimes even no roads out of the village), limited education and being generally cut off from the outside world, villagers often perpetuate the cycle of poverty from generation to generation. 
Can you imagine living this kind of life?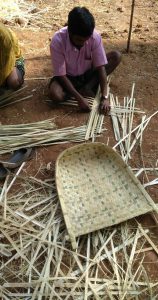 Korra was destined to continue a life of poverty, as his parents before him. Living in a rural village in Telangana, far from city life, he struggled to feed his wife and two small children with his desperately low income. Work was hard to come by. Some days he would find work as a daily wage laborer, striving long hours for little pay, usually earning just enough for food that night. Other days he would return home defeated, unable to find work at all.
At 35 years old, after many years of hopeless living, Korra could bear it no more. He heard of a skill training center sponsored by a local church in IGL's network. There, his life changed. At this center Korra enrolled in a six month training program where he learned how to weave baskets out of bamboo trees! Since his village is surrounded by these trees, the materials were readily available. Putting his new knowledge to use, he began weaving baskets – and they sold!
Korra is grateful for the basket weaving training he received exclaiming, "it has transformed my life!" Korra and his family are now able to enjoy life with a new sense of hope and freedom, no longer plagued by the heartbreak that deep poverty brings.