A Village Transformed by Jesus' Love
Summer Quarterly Newsletter 2017
July 26th, 2017 by Kate Smith | | Posted in Field Updates
Once consumed by darkness, this rural village is now a place of light and life
We see pictures of squalor in developing countries: water so filthy it can barely be classified as water; people forced to send their children to work at a young age just to keep food on the table; videos of children with swollen stomachs suffering from extreme malnutrition. How do we make a difference?
Five years ago, a generous church made the far-reaching decision to adopt a village halfway across the world. The church's partnership resulted in dozens of people coming to know Jesus personally, more than 30 women receiving loans to begin their own businesses, an evening study center being established, health care provided and so much more. Here's the story of how one woman's life changed dramatically: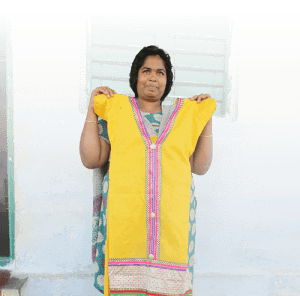 At the age of 16, Sivaskathi was forced to marry a man 30 years her senior. After eight years, her husband died of tuberculosis. At just 24, Sivaskathi was left with nothing and no way to earn a living on her own. At that time, Sivaskathi remembers, "my life was filled with darkness and fear. I lost hope."
But then some workers with IGL's Adopt-a-Village (AAV) program met her and convinced her to enroll in a local IGL skills training center. There she learned how to tailor and took classes on entrepreneurship. Eventually, Sivaskathi bought her own sewing machine and started a small business. With her newfound confidence and success, Sivaskathi's fears melted away. She even remarried and had a child!
Many more lives have changed in this village of 750 families, just like Sivaskathi's. Infant mortality rates decreased by four percent after the introduction of immunizations. General health also improved as the AAV workers taught the locals about nutrition, sanitation and disease prevention.
More than 300 children began receiving special academic coaching every year, resulting in a 50 percent increase in literacy and school attendance. In fact, school dropout and child labor rates fell below one percent!
At one time, the church in this rural village was branded by local opposition as a Christian conversion agent, and anyone who attended was isolated from the community. But after experiencing the love of the gospel firsthand, the community could not deny its powerful impact. What else could bring such dramatic transformation to their people?
Today, more than 50 people regularly attend Sunday church and 30 local youths have joined the pastor to help effectively implement AAV activities like health awareness meetings, medical camps and evening study centers.
Now, five years on, the AAV program is considered "finished" from an outside viewpoint. Every aspect and responsibility of the ongoing programs has been fully transferred to members of the community. The socio-economic programs of skills training, education, medical care and more will continue, only now under the leadership and provision of the local church.
Thank you to all of our faithful partners who do their part to help transform the lives of those living in poverty in South Asia! The Lord is accomplishing much with your help.