living her last days with dignity
Summer Quarterly Newsletter 2017
July 26th, 2017 by Kate Smith | | Posted in Field Updates
"I am very happy to be in the Sharon Palliative Care Center though I know I am in my last days of life."
– Indrani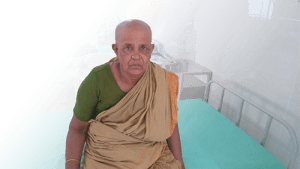 When our loved ones have been diagnosed with a terminal disease and are in the final stages of their lives, we want to do whatever we can to make them comfortable and ease their pain. While that journey is emotionally difficult for us and physically painful for our loved one, the US healthcare system has provisions in place to help make end-of-life care easier. But in South Asia, that's not necessarily the case.
For example, in Tamil Nadu, one of 29 states in India, a population of 79 million is served by only 20 palliative care centers. In all of India, only one percent of the population has access to palliative care (palliative care is much like hospice care, designed to treat patients suffering from a chronic or terminal illness). A large part of the population with terminal illnesses currently have no choice but to manage the pain and cope with the illness at home without the oversight of medical professionals or through expensive hospital stays.
Indrani was referred to IGL's Sharon Palliative Care Center after spending nearly all her financial resources on private hospital stays and breast cancer treatments. Despite receiving this medical care, the cancer continued to advance. Soon there was nothing more the doctors could do but provide her with the dignity of a peaceful passing. Indrani is thankful for the care she is receiving at the Sharon Palliative Care Center.
"In Sharon, I really experienced a divine atmosphere, care, kindness and good pain management services. I have been assured of a life of dignity."
– Indrani