Five years and heavy opposition later: a Life Center has been finished
September 22nd, 2017 by Kate Smith | | Posted in Field Updates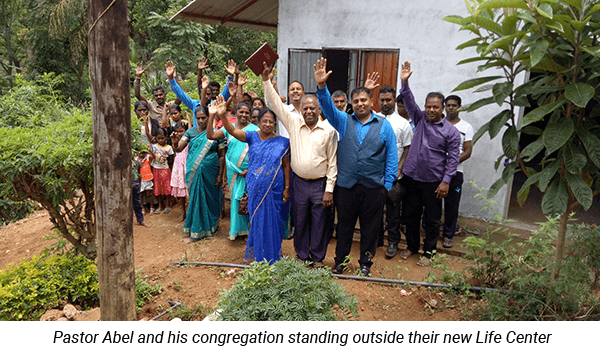 "After so many problems and trials we are glad to see this great day," Pastor Abel reflected as he stood before the Life Center being dedicated.
After nearly five long years of opposition and persecution, Abel's church in the heart of Sri Lanka is finally finished. In December 2013, a generous partner from Canada was paired with a pastor in Sri Lanka in need of a Life Center for a congregation brimming with new believers. But before they could even break ground, they were faced with opposition. 
A radical religious group and the local government did whatever they could to stop the spread of Christianity in the region. At the time, the radical group closed the doors on two local churches with a warning "not to conduct worship or perform any Christian activities." Not only did the local government refuse to issue a building permit for Pastor Abel, but they also cancelled all building permits already issued for churches that year!
Pastor Abel was not deterred. "I will complete this church building by any means," he promised. Falling on his knees he asked the Lord – what should he do? Slowly and cautiously, he began to build the Life Center despite the restrictions and threats. Meanwhile, he continued to request permission from the local government.
Finally, in 2016 permission was granted! But the work was yet again delayed because of the massive flooding that hit Sri Lanka in May 2016. At last, on August 28, 2017, the pastor and his congregation were able to gather together to celebrate the opening of their brand new church!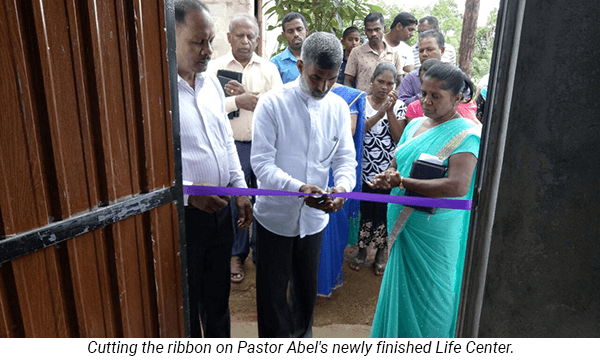 And yet, the threats from the religious radicals have not gone away. Very few people came out to celebrate the new Life Center because of threats from the community. Pastor Abel and his church still live in the tumultuous atmosphere of their village, where Christians are hated and opposed at every point. They need your prayers as they continue to spread the Gospel amidst adversity. Will you pray with us?