The Bible Changes People, Families and Communities
October 13th, 2017 by Kate Smith | | Posted in Field Updates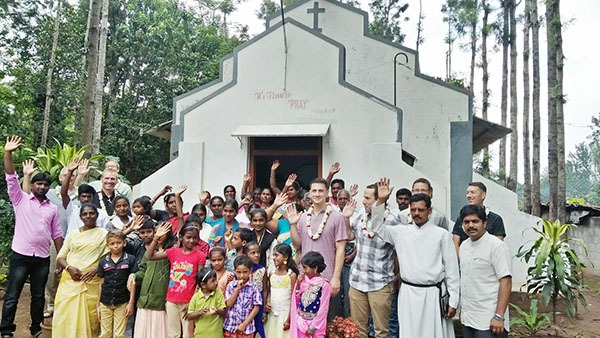 Imagine only one in four people in your congregation having access to a Bible. Or not having the opportunity to order one online or pick one up at the local bookstore. Pastor Thomas' church was exactly in this position.
Only 15 of the 65 people in Pastor Thomas' congregation had their own copy of God's Word. To a believer, God's Word is vital for spiritual growth, "useful for teaching, rebuking, correcting and training in righteousness."
Thankfully, you have faithfully prayed for the expansion of God's kingdom in South Asia, and God answered. In August, we were able to distribute 70 brand new Bibles to this congregation! As Pastor Thomas delighted in this valuable gift, he reflected:
"Last year a couple of girls prayed and received Christ in a coffee estate where I was working. I consistently met and encouraged them to read the Gospel of John. Each week they came with different questions, including some insightful questions – things I wouldn't have thought to bring up. They were curious and I helped them to understand what they were reading. The word changed them completely, now they are ready to enter into a new faith. It all happened not by preaching and teaching in the church but by reading the word of God. This gave me certainty that the word of God alone can change people from all bondages. We expect great revival as we distribute 70 Bibles to people for their personal walk with the Lord."
Pastor Thomas' church is only one of many more churches that are lacking Bibles for their congregations. But you can change that. You can put a brand-new Bible into the hands of a new believer by simply donating $5. You'll change not only one life, but possibly a family and even an entire community with only $5! Will you donate today?
"And we also thank God constantly for this, that when you received the word of God, which you heard from us, you accepted it not as the word of men but as what it really is, the word of God, which is at work in you believers." 1 Thessalonians 2:13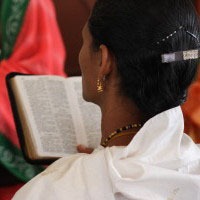 Bible with Study Guide Notes
For the average villager in India, the cost to purchase a Bible is equal to three days' wages. Your gift will supply new believers with worship tools in their native language, which we often take for granted.
$5
Choose a quantity.
Give Now
---