Take a Trip with India Gospel League
October 23rd, 2017 by Kate Smith | | Posted in Field Updates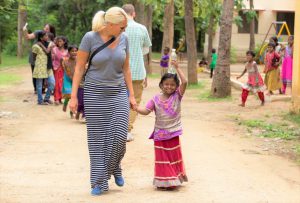 What can I expect from a missions trip with IGL?
India Gospel League welcomes visitors who want to see firsthand how God is using IGL to reach the lost in South Asia. Trips offered include Eyewitness, Medical, Veterinary, and Leadership Training for pastors, women and youth. To experience the full scope of the ministry, we recommend a 7 to 10 day visit. Come and see how lives have been touched and villages have been transformed!
Who will I get to meet?
Visitors will have a chance to meet and interact with many IGL barefoot pastors, ministry workers, local villagers as well as the Stephens' family and dozens of children in IGL's care.
Where do I get to go?
Guests are hosted at IGL's mission base, Sharon Gardens, located in Salem, south India in the serene and picturesque foothills of the Shevaroy mountain range. The base is home to several children's facilities, medical facilities – including a new palliative care center, a chapel, convention center and several skills training programs. Depending upon the type of team you travel with, you may also participate in or observe IGL's children's programs, village church services, baptisms, medical or veterinary camps, and leadership training conferences.
What type of work will I be doing?
Pastoral teams can join in conferences and assist in teaching and training young church planters. Medical professionals can lend their skills to assist IGL's hospital based and mobile medical ministries. Those interested in funding specific projects can visit sites where water wells, children's homes, and church buildings are needed.
Where will I stay? What will I eat?
Our friendly team coaches you through the whole process, and, once in country, we'll handle every aspect of your journey – from your meals to accommodations to all in country travel. You won't have to focus on logistics, because we want you to have the fullest, richest experience possible – to really see what God is doing in this unique, challenging, colorful, unreached part of the world, and enjoying delightful hospitality along the way!