870,000 Children Heard About Jesus
October 26th, 2017 by Kate Smith | | Posted in Field Updates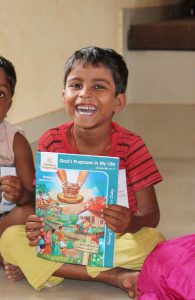 We praise God that this summer 870,000 children attended Children's Gospel Clubs and heard about Jesus, some for the very first time! This children's discipleship program started 15 years ago with a plan to reach 2,000 kids. But we never imagined the reach it would have as God blessed this program and exceeded our goals year after year!
Together with your help, we invest time, resources and, energy to raise tomorrow's leaders today. And it's paying off! Many children have brought Jesus' love and hope to their friends and families as they share what they've learned through the clubs. Now, countless lives and eternal destinies are forever changed, all because these children had the opportunity to hear about and experience Jesus' love for themselves.
In preparation for the 870,000 children expected at the clubs, 69,600 teachers, 1,740 leaders and 200 directors received training this spring on the theme: "God's Purpose in My Life." The goal is to prepare the children to become the future leaders in both the church and society. One of the leaders commented after the training, "This meeting will help me to convey God's Word to children in an easy manner. I am thanking God for this wonderful opportunity."
If you'd like to learn more about this year's CGCs, watch a video, read testimonials and view club photos, read more here.