If God Calls, Will You Go?
December 11th, 2017 by Dan Jarvis | | Posted in Field Updates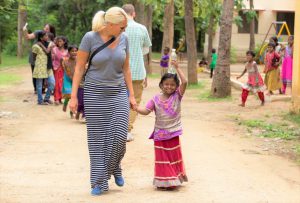 Your life and perspective will change – that's for sure. But the purpose of a short-term mission trip isn't about you – the extent that your life is touched is just an ancillary benefit.
The real purpose of missions is about the extension of God's work in the world, about answering the call of the Holy Spirit to go forth with the gospel. In Acts 1:8, Jesus encouraged his disciples that His power would be upon them, as they went forward locally, regionally, and globally to testify about His amazing love and grace.
And thankfully, those early disciples were true to the Commission in their generation, and the Word of God spread rapidly across the world. Today, we are beneficiaries of their courageous faith!
But the work isn't done, and the Commission is far from complete. God has called every one of us to be involved in sharing the Good News – wherever we are, whenever we can. This call begins locally for each of us (just as it did for those first disciples in Jerusalem), but still extends "to the uttermost parts of the earth."
Think of this: there are mission trip opportunities to almost every nation on earth, and detailed information about nearly every linguistic and cultural group. There is already mission-oriented infrastructure that can help you "go" and can equip you to effectively make disciples, encourage native believers, and serve internationally with the skills the Lord has entrusted to you.
So, if God calls YOU to go, how will you answer?
If you have medical training, IGL's medically-oriented ministries could use your expertise.
If you are pastor or Bible teacher, IGL's leadership development and church planting team could use your insight, encouragement and teaching to build up the leaders of rural churches.
If you are a lay-person with a heart for missions, IGL's team would love to host you on a vision trip to learn about all the possibilities for partnership, prayer and service.
Your journey to "go" begins with an interest that God puts into your heart for global missions. If you already have that, take a next step.
Check out the video below to learn more about what a trip with IGL could look like.
Your simple decision to explore this further could lead to something truly life-changing for you. But remember – that's not even the primary point! The bigger issue is that the world needs the gospel – and YOU are a witness.
Are you ready to go?