Three Reasons the South Asian Church is Exploding
December 11th, 2017 by Dan Jarvis | | Posted in Field Updates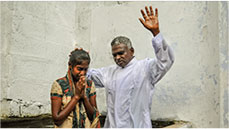 There are moments in history – divine 'kairos' moments – when amazing things begin to happen, when the Holy Spirit's work is undeniable and exponential. South Asia is in the midst of a multi-decade boom of church planting, perhaps among the largest surges of kingdom growth in world history.
Why?
There are many answers to share, and certainly for decades to come missiologists and historians will theorize as to what factors converged in the late 1980's and on into the first few decades of new millennium that have brought about such miraculous, unexpected results. In fact, at IGL we have already published two books offering perspective on this: Commissioned (2014) and The Kairos Moment (2016).
From my vantage point, as an American pastor looking over at the amazing pace of church planting seen in multiple mission networks, but particularly with a focus on India Gospel League, I've seen three fundamental factors driving the recent explosion of church growth, which we can celebrate and learn from:
The Holy Spirit's power. No other explanation comes close to this one: God is at work in a way unprecedented for this particular region of the world. Hearts are opening to the gospel by the millions, and the Lord is raising up more workers than ever before to move into the least-reached regions of the Indian subcontinent. It is the book of Acts coming to life in an area that for centuries has been locked up by superstition and idolatry. As the president of IGL has describes it: "This is God's time for India."
Indigenous churches sending and multiplying. Many efforts throughout history to reach under-served areas with new churches have been hampered by cross-cultural factors – far-away evangelistic strategies and Western-imported models for church growth simply cannot take root in a region the way that authentically local churches can. Here's the good news: across South Asia today, the local church is truly local – and the exponential growth we see is almost entirely a result of indigenous, native churches sending forth their own into the next village and the next after that.
Focus on leadership development. South Asian church leaders have recognized the vast potential and the vast opportunity around them – not simply to conduct large scale rallies for gospel proclamation, but to really zero in on equipping pastoral leaders to shepherd and disciple others over the long-term. Theological training and strategic planning wisdom have helped local churches begin effectively reaching their communities for Christ, and many churches even host their own leadership training classes to equip more pastors to send out year after year. This equipping mentality has led to more than 90,000 church plants since 1992, just in IGL's network alone.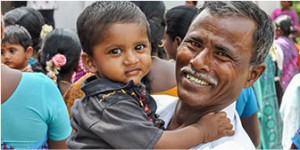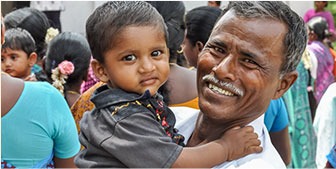 More good news? The surge isn't over, in fact, it is multiplying at a rate that is becoming increasingly difficult to even track statistically. IGL estimates that throughout its network of affiliated pastors and churches, between 500-800 new churches are starting every month. Most of these are being planted in areas that previously had little or no gospel access, let alone a Bible-centered church with an eye toward reaching its community with help and hope
Getting involved in the amazing way God is working in this part of the world can be as simple as praying for even more laborers in the harvest fields (Luke 10:2), or even becoming a sponsor of one of our barefoot pastors, helping him and his family begin new gospel work in yet-to-be reached villages.
One day, our prayer is that every village across South Asia will have a church, and that every person will have the opportunities to hear the gospel personally. Thanks to the amazing grace of God, and the powerful movement we are witnessing in this kairos moment, that vision is closer to fulfillment than ever before.