Manikandan: A Child with Difficulties Now Has Hope
January 12th, 2018 by Kate Smith | | Posted in Field Updates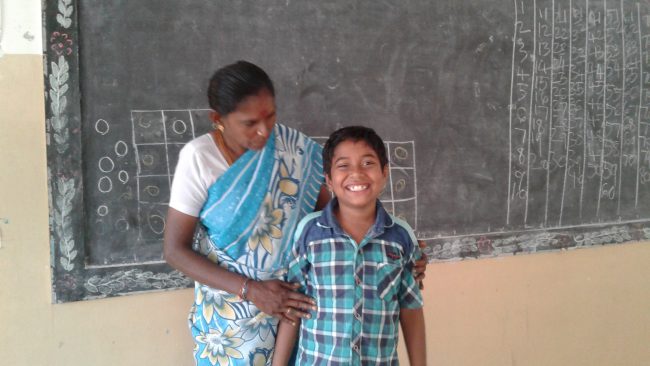 At some point all parents will face challenges raising their children. But certain challenges can be so overwhelming it leaves parents in despair, unsure about what to do next. Manikandan's parents faced this very problem.

Manikandan's father, Madheswaran, works at a shipping company. He struggles to make sure his family is fed and clothed on his meager income. But this situation became worse when his son was prescribed a number of costly medications to control his epilepsy and ADHD.

Unfortunately, Madheswaran's worries go beyond paying his son's medical bills. His son also developed some very aggressive behaviors. Manikandan would became so violent that his mother feared taking him out in public. The situation was so severe that at one point her mother-in-law even suggested that she kill the boy rather than endure these hardships!

Then his parents heard about the new Children's Wellness Center.

They enrolled Manikandan, 8 years old, in May 2017 for therapy to address his epilepsy, ADHD and aggressive behaviors. With the help of therapists and special educators,Manikandan is gradually learning how to interact with people and the world in a completely different way. His parents are finally starting to feel some relief as they witness Manikandan changing right before their very eyes. They are grateful and remain hopeful that this program will continue to provide the help their son needs to become a functioning, well-rounded adult.

Praise God for the wonderful change Manikandan is undergoing! There are 26.8 million children in India living with some sort of disability. India is facing a considerable lack of programs designed to help these children. The goal of the Children's Wellness Center is to fill this gap and help these children grow up to become functional, independent adults. All the while, the IGL staff strives to embody Jesus' love as they care for each and every child.