We've renamed our children's ministry to: Love One More
February 2nd, 2018 by Kate Smith | | Posted in Featured Update, Field Updates
India Gospel League's Children's Ministry now has its own unique name and look – Love One More! We believe this new name and style more accurately reflects the heart of what our children's programs represent: the commitment to bringing in, accepting, embracing and extending generous love to one more child. 
The need to care for children in South Asia is ever-increasing. And it's through this new name that we hope to communicate the growing opportunity to impact these children in the name of Christ. Every child was created to be loved, to grow up able to dream of a future and take joy in all that comes with being a child. God has given us the opportunity now to forever change the course of a child's life by giving them a chance to learn about and experience the love of Christ.
We are committed more than ever to this mission and hope this new name and look will reflect that pledge. While "Love One More" will remain a part of India Gospel League, over time, everything you see about our children's ministries will reflect this new design.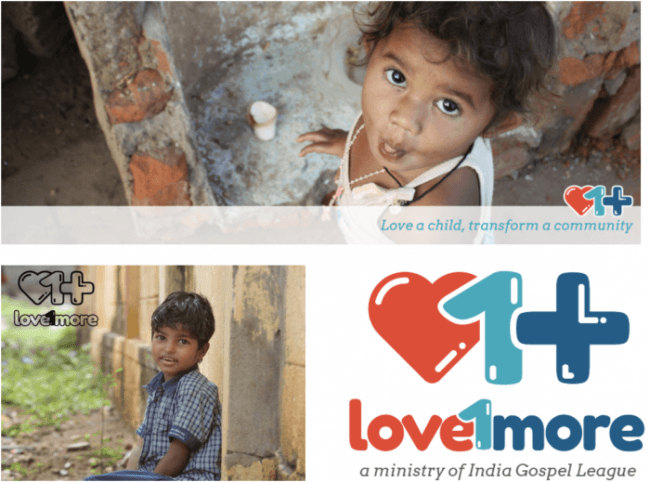 What's included in this new look?
Soon, everyone who sponsors a child will begin seeing this design in everything child-related that they receive. Here's everything you'll see with this new style:
The children's pages on our website will take on this new look.
You can also follow all new social media accounts dedicated to Love One More (see links below and please like or follow us!).
If you currently sponsor (or will sponsor a child through us), all of your mail will also have this new look.
Have you been considering sponsoring a child? This could be your chance to "love one more." Click below to start sponsoring a child today.
---
---
As a child sponsor, you have the unique opportunity to change the life of a child forever. You will be personally connected with a child living in one of 22 IGL children's homes. They will write to you and pray for you by name. Your child's care includes: family-style living, Christian house parents, nutritious meals, medical care, an education and more!
Sponsor a child