Veerapathran gives his life to God
Winter Quarterly Newsletter 2018
February 16th, 2018 by Kate Smith | | Posted in Field Updates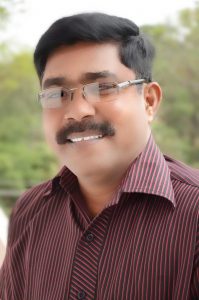 Veerapathran once lived a life full of worldly pleasures and desires, doing whatever he pleased. But when he inherited the family business, a furniture shop, he quickly racked up debt as he tried to maintain his worldly lifestyle. Soon the debt collectors were at his door demanding repayment with high interest. Veerapathran brought shame on the family for mismanaging the furniture shop, and he was kicked out of the business.
On the brink of ending his life, the Lord found him and whispered this scripture: "Keep your life free from the love of money, and be content with what you have, for he has said, 'I will never leave you nor forsake you.'" Hebrews 13:5
Soon after, he shared this encounter with a Christian friend who shared Jesus' Good News with him. Veerapathran began to devour God's Word. Even when his family threatened to disown him for reading the Bible, he couldn't stop himself. As confirmation of his new-found faith, the debt collectors, seemingly without any prompting, freed Veerapathran from paying the crushing interest on his debts!
Later, sensing the call to become a pastor, he joined an IGL Bible School, graduating in 2017. Shortly afterward, he made this declaration for himself, his wife and children, "After my graduation, my vision is to establish churches. I want to preach and help others to know Christ. As a family, we would like to serve God. Now I fully commit myself to (the) Lord's work and building His Kingdom in the rural villages."
Thank God for Veerapathran and the 69 other Bible students who graduated in 2017 and are ready to share the gospel in villages where the name of Jesus has never before been heard!