Celebrating International Women's Day: A Woman's Life Changed Forever
March 8th, 2018 by Kate Smith | | Posted in Featured Update, Field Updates
When Abirami turned 16, her parents took her out of school and married her off, a common practice in her culture. She was heartbroken. Abirami loved learning, but her parents and new husband told her that further education was no longer necessary – her only job now was to be a wife, mother and homemaker.
Abirami is just one of thousands of women with similar stories in rural South Asia. Women are not given the opportunity to graduate high school, consider higher education or choose a career, but are instead tasked with cleaning the house, fetching water and raising children. In rural India, women receive an average of four years of education and are often married in their teens.
These young women are dependent on their new husbands as the sole breadwinner. However, many of the men in these rural communities are alcoholics (one in five men drink on a daily basis in rural India, including Abirami's husband). So while their husbands spend their $2 average daily income on alcohol, these new brides and young mothers are left with nothing to scrape together meager meals for themselves and their children.
But for Abirami, all that is changing. Through local community workers Abirami heard of a program called "Women's Transformation Groups." These groups teach women the basics of running a business – personal finances, creating business plans and so much more. Despite her husband's disapproval, Abirami joined a group right away. Abirami eagerly participated in every activity she could, and even learned to sew in the process!
After completing the six-month program, Abirami applied for a micro-credit loan through India Gospel League. This loan would provide the money she needed to set up her very own tailoring business and allow her the time to begin making a profit. After a few bumps, Abirami signed a contract with a local textile company. She's now making 300 cotton bags a day!
 
Abirami's new business has radically changed her family. Besides adding $100 to their monthly income, her husband's attitude completely changed as he watched his wife work hard. He has since stopped drinking alcohol and is focusing, instead, on his family and his work.
India Gospel League's Women's Transformation Groups have been empowering women like Abirami for decades. Right now there are 302 active groups, changing the lives of hundreds of women across South Asia. We need your help to impact even more. Would you celebrate International Women's Day with us by providing a micro-credit loan to a woman like Abirmai, so she too can start her very own small business?
---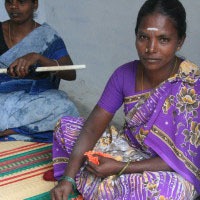 Micro-credit Loan
Enable a woman living in extreme poverty with a small loan and support to start a business that will sustain her and her family. When the loans are paid back, they are recycled to other women. Your one-time gift could be given hundreds of times!
$150
Choose a quantity.
Give Now
---