World Water Day 2018!
March 20th, 2018 by Kate Smith | 1 Comment | Posted in Featured Update, Field Updates
Did you know 163 million people living in India do not have access to clean water? The World Bank estimates 21 percent of communicable diseases in India are due to unsafe water and hygiene practices. Even more upsetting, in India every year 2.1 million children under five die from the effects of drinking contaminated water. The statistics are heart-breaking, but you can make a difference! 
Each well dug as part of India Gospel League's "Living Water Project" is located next to a Life Center (church building). Thus, because the local congregation is providing this sustenance to their community, they are able to share the only thing that will truly satisfy them – Jesus. This well becomes a tangible reminder of Jesus's promise to provide living water to all who ask that they might never thirst again.  
You can bring change to one person, one family, one village when you give toward a water well. You will bring not only clean drinking water, but an opportunity to learn about Jesus. In fact, this opportunity can impact a community of 2,000 to 3,000! 
"Whoever believes in me, as the Scripture has said, 'Out of his heart will flow rivers of living water.'" John 7:38
Will you give a glass of clean water to a child, a family, a community today in celebration of World Water Day?
---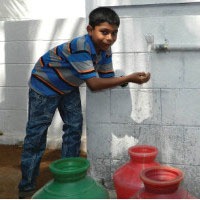 Clean Water Well
Access to clean water is something of which we so often take advantage. Water is essential for not just health and hydration but also sanitation. Roughly two-thirds of the population of India does not have adequate sanitation or access to clean water. It is common for villagers to walk miles daily just to collect surface or stream water that is often infected, polluted and unsafe to drink. This contributes to the death of 2.1 million children under the age of 5. Your gift toward a clean water well can cut a village's child death rate in half.
Choose an amount.
Give Now
---