Child Trafficking: What You Need to Know
May 11th, 2018 by Becky Stanley | | Posted in Love One More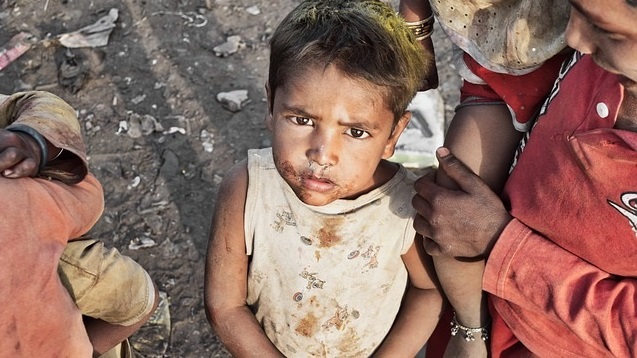 You may have heard of Human Trafficking, but don't fully understand how it works and how children are impacted by it. Either way, we want to share with you more information to give you a glimpse of the astounding reality of this prevalent evil.
Human trafficking is the third largest profitable industry in the world. When you talk about human trafficking it almost always refers to the trafficking of women and children. In recent years, this has become a matter of enormous national and international concern. Child trafficking, unlike other issues is a global issue and is not restricted only to developing or developed countries. It affects large numbers of boys and girls each and every day.
Human trafficking: The United Nations defines human trafficking as the recruitment, transportation, transfer, harboring, or receipt of persons by improper means (such as force, abduction, fraud, or coercion) for an improper purpose including forced labor or sexual exploitation.
Child Trafficking: According to UNICEF a child victim of trafficking is "any person under 18 who is recruited, transported, transferred, harbored or received for the purpose of exploitation, either within or outside a country."
Although rampant and as real as the existence of the air we breathe, trafficking is one of the hardest crimes to track and investigate making it all the more impossible to obtain data. The latest numbers shared by various organizations striving to end this evil estimate that 1.2 million children are trafficked worldwide each year. It is a largely hidden crime and sadly, has only recently gained the attention of law enforcement, human rights advocates, and policymakers.
Here is a closer look into what human and child trafficking looks like in India. India is a source, destination, and transit country for many trafficking purposes.
The hard truths about trafficking in India:
Almost 20,000 women and children were victims of human trafficking in India in 2016, a rise of nearly 25% from the previous year.
The Ministry of Women and Child Development revealed that 19,223 women and children were trafficked in 2016 against 15,448 in 2015, with the highest number of victims recorded in the eastern state of West Bengal.
West Bengal – which shares a porous border with poorer neighbors Bangladesh and Nepal and is a known human trafficking hub, has registered more than one-third of the total number of victims in 2016.
South Asia, with India at its center, is one of the fastest-growing regions for human trafficking in the world.
The majority of India's trafficking problem is internal, and those from the most disadvantaged social strata- lowest caste Dalits, members of tribal communities, religious minorities and women and girls are most vulnerable
Andhra Pradesh, Karnataka, West Bengal and Tamil Nadu have the largest number of people trafficked. Intra state/inter district trafficking is high in Rajasthan, Assam, Meghalaya, Bihar, Uttar Pradesh, Andhra Pradesh, Karnataka, Tamil Nadu and Maharashtra. Delhi and Goa are the major receiver states. Trafficking from north eastern states is high, but often over looked.
The desert state of Rajasthan recorded the second highest number of trafficked children in 2016, while the western state of Maharashtra, where India's business capital Mumbai is located, showed the second highest number of trafficked women. The majority of the trafficking is within the country, but there are also a large number trafficked from Nepal and Bangladesh. Children are trafficked to Middle Eastern countries for sport such as camel racing.
Who are these victims of human trafficking?
These humans that we are talking about are the children of the poor and marginalized communities who are often trafficked to be forced into labor. Parents of these children are either betrayed or lured due to their poor socio-economic conditions thus forcing them to 'send' or 'sell' their children for better livelihood options. The lack of awareness of these disadvantaged sections is a situation that traffickers exploit. This is especially true when it comes to uneducated poor living in slums and other backward regions in the country. These people are promised daily wages to parents of young children and traffickers transport them to big cities where they are often treated as commodities. Families in dire financial conditions are often approached by traffickers with an offer to buy their children and with no other escape from their pitiful conditions, parents comply.
Child trafficking
The helplessness and vulnerability of children in trafficking becomes even more amplified when they are born into poverty.
Here are some heart-wrenching truths of child trafficking in India
Trafficked children are used for prostitution, forced into marriage, illegally adopted, used as cheap or unpaid labour, used for sport and organ harvesting. Some children are recruited into armed groups. 40% of prostitutes are children, and there is a growing demand for young girls in the industry.
12,000 – 50,000 women and children are trafficked into the country annually from neighboring states for sex trade. Thousands of girls are trafficked from Bangladesh and Nepal. 200,000 Nepalese girls under 16 years are in prostitution in India.
In India, a large number of children are trafficked not only for the sex 'trade' but also for other forms of exploitation that include domestic labor, industrial labor, agricultural labor, begging, organ trade and false marriage.
Why are children trafficked?
Children who are trafficked are forced into bonded labor, domestic work, agricultural labor, construction work, carpet industry, garment industry, fish / shrimp export as well as other sites of work in the formal and informal economy. With the changing trend in India's work culture where both men and women hold jobs that require them to put in long hours of work, there is a rising demand for live-in maids, particularly in urban areas. This has resulted in trafficking of girls from villages in West Bengal, Jharkhand and Chhattisgarh to live under extremely poor conditions. Placement agents keep the girls in small unhygienic rooms packed together. They are often made to do the placement agent's household work and are subjected to sexual abuse.
Trafficked children are also forced into organized criminal networks such as begging, organ trade, drug peddling smuggling and more.
Trafficked children are most often forced into prostitution. The rising demand of young/virgin girls has resulted in a large number of young girls being trafficked and forced into prostitution. Most find themselves as a part of a large organized crime network of sex tourism and pornography. India has in recent years seen a grotesque demand for child pornographic material causing many children to become victims of child pornography.
The agility of children has unfortunately been preyed upon by traffickers resulting in children being trafficked to work at the circus, dance troupes, beer bars and more. Sometimes they are even made to work as camel jockeys in different parts of the work.
It is a painful truth that little children, of whom God said that the kingdom of heaven belongs to, are the most victimized in almost all of the organized crime networks. Their birth into a family living in poverty only makes them even more vulnerable and likely candidates for trafficking. As hopeless and helpless as the situation is, all it takes is one person's decision to love one more and  extend a donation amount as small of $35 a month which could help a child break out of the vicious cycle of poverty and the vulnerability that comes with it. All it takes is your decision to love one more which can make this child's story totally different from those others who have unfortunately become victims of child trafficking.
Love One More has rescued more than 25,000 children over the course of 48 years, allowing them the opportunity of a new life free from trafficking and other forms of exploitation. Your gift of sponsorship is a small act with big impact, breathing hope into a vulnerable child's life. Let's give these children the life they've been created to live – live in all its fullness.