Hope in Darkness- Safe Spaces Campaign Testimonies
September 20th, 2018 by Jill Speight | | Posted in Love One More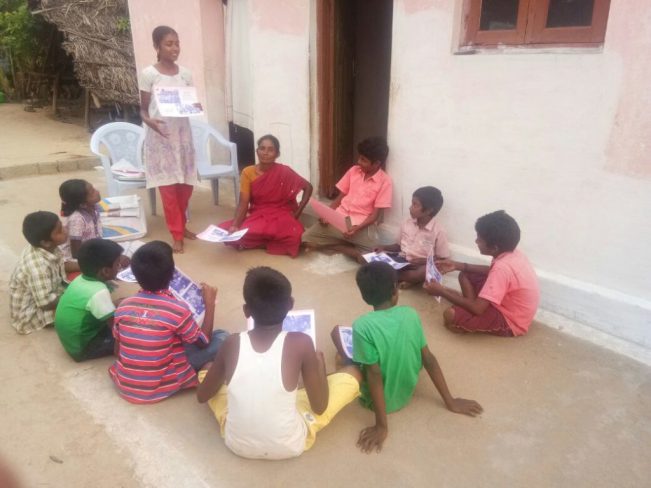 Our Safe Spaces for Children campaign has touched so many lives, bringing hope and light to darkness. Education and awareness of the dangers affecting vulnerable children in rural India has prevented a large number of abuse and child marriage cases. We are so grateful to God for leading and directing our campaign so that many lives have been changed and will be changed as a result of our efforts!
Learn how our campaign has changed the course of 4 young girls lives: 
Atchaiya- 13 years old
Atchaiya's life was saved as an outcome of Love One More's campaign to create Safe Spaces for Children. Atchaya lives in Karatampatty and she is in 8th grade. Her family doesn't own a car, so Atchaiya always traveled by bike to attend school and go to the nearby shops.  In her village lived Ramasamy, a 65 year old man who owned a tire service shop. Most of the village people visited his shop to get their tires serviced, but behind closed doors Ramasamy had bad intentions and abused many young girls who came to his shop to service their  bike tires.  Despite knowing what was happening, no one filed a case or complained to anyone about his abuse. Recently, Atchaya went to Ramasamy's shop to fix her flat tire.  While working on her bike, Ramasay asked Atchaya to get his spanner from inside. When she went inside he followed her and locked the door and attempted to sexually abuse her. As Atchaya has learned from our Safe Spaces campaign, she didn't panic and instead screamed out for help and people from neighboring shops and homes rushed in and rescued her. They also called the abuse help line and filed a case against Ramasamy and he was jailed and fined for his behavior. There were many threats and pressure from Ramasamy's family, but Atchaiya and her family were very clear and stood their ground and did not withdraw the case.  This bold step by both the family and the people in the village was because of training and awareness from the Safe Spaces for Children campaign. Praise God!
Selvi- 12 years old
Raju and Lakshmi and their 3 children live in Koothapadi and are both daily wage laborers. Their youngest daughter Selvi is in 12th grade and only 16 years old and Raju and Lakshmi were planning to arrange a marriage for her. As they began to plan an arranged marriage, there were Love One More community workers in their village teaching and educating awareness about child marriage, child trafficking, and sexual abuse through the Safe Spaces for Children Campaign.  Once our community workers heard that this family was arranging a marriage for Selvi, they took action and immediately stepped in. They counseled the family and Selvi about the problems the family and especially the young child will face after an early marriage. The staff advised the family to make her study further and continue her education. The staff also warned the family if they choose to continue to arrange a marriage for Selvi, the Love One More staff team will have to take action and report them to authorities since child marriage is illegal. Through counseling, the staff team was able to stop the child marriage and also helped Selvi apply and get into a college to pursue her Bachelor's degree. Love One More and the staff team were grateful to be in the right place at the right time to stop the child marriage and provide Selvi a brighter future!
Divya- 16 years old
Divya is in 10th grade and lives in Kanavaipudur with her family. Most days, Divya helps her busy parents with household chores and duties, but her dream is to get a good education and study further than high school.  Her parents wouldn't allow her to continue her education, as they were planning to marry her to one of their close relatives, which is a common tradition in rural India. The Love One More staff heard of this news and went right to their home and gave them personal counseling about child marriage and the damaging consequences. Divya'a parents accepted that they were wrong and they postponed the wedding until Divya is ready. They also agreed to help her continue her education at a local college.
Priya- 16 years old
Priya lives in Thamarai Nagar. She was forced by her parents, Murugan and Venilla to marry a 31 year old man. Priya's aunt heard of the news was aware of the dangers of child marriage thanks to our Safe Spaces for Children Campaign and went right to where the wedding was arranged. She called the support of the local police to stop the arranged child marriage. The local police stepped in and stopped the marriage.
We thank God and all of the staff members involved in our Safe Spaces for Children campaign who help cast light into dark areas, bringing hope, restoration and a new life in Jesus Christ! If you want to be involved in our Safe Spaces for Children campaign, you can either pray for the ministry, donate or learn more.