From My Heart
Taking Time to Reflect
June 5th, 2020 by Sam Stephens | | Posted in Field Updates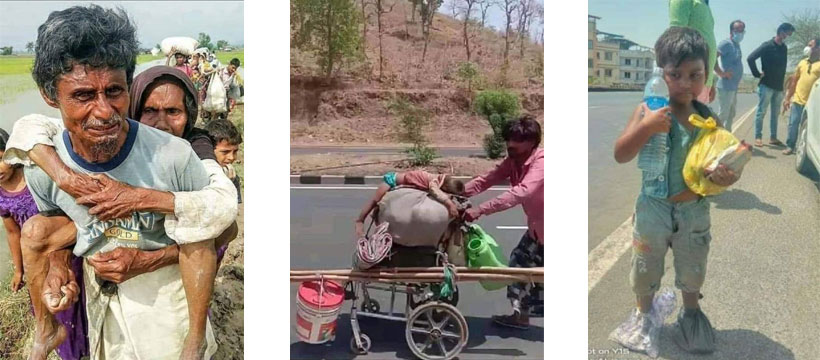 India, along with its existing woes of poverty, floods, cyclones, famines, economic inequalities and a host of other issues, is currently facing the brunt of COVID 19. As always, the most affected are the poor and marginalized Without being judgmental or critical, I share my evaluation of the present scenario in India. The premature timing of the nationwide lockdown along with the draconian measures that were imposed have resulted in untold misery upon a significant number of the population already struggling to make a living. They are the daily wage earners and migrant workers who have been stranded during the lockdown.
Several million people from the poverty stricken regions of India have over the last few years temporarily migrated to the industrial areas for work, leaving behind their permanent homes and families. For a good number of these migrant workers home is hundreds of kilometers away. Devoid of employment, unable to access food, already living in squalor without basic necessities, these millions were unable to return home. After more than two months since the announcement in March, thousands are still found struggling to make their way back to their native places. Many of them are walking hundreds of kilometers and in the process, dying of starvation, sickness, heat and sheer exhaustion. The government's efforts at mitigation has left these masses in total distress and despair. It is now we find increasing numbers of positive cases and deaths.
Much more can be stated in regard with the government's inefficiency in proper planning, execution and inadequacy for testing. Whether the country has the right kind of leadership to help navigate through this storm in an impartial, ethical and unbiased manner is quite questionable. It will not be an exaggeration to state that India is battling an immense and compounded crisis. It is difficult even to estimate the losses the nation will ultimately suffer and the time it will take to recover. Much of this can be mere speculation at this juncture. Sad to say, the general apathy that has existed towards the poor and down trodden with the government's focus on industry based development and economic growth is manifesting its ugly face more now during this present crisis. The inevitable economic recession will surely impact the poorer segment of the population much more than the others.
All this leaves us as Christians deeply concerned over the mounting economic imbalance, inequality and deeper issues of justice that gravely affects the segment of population we serve and whose needs we help cater. How can we not be concerned over issues that break the heart of a merciful and compassionate God? His Word clearly proclaims that the Lord "watches over" and "sustains" the poor and marginalized (Psalm 146:9) and that He stands on the side of the poor, suffering and oppressed (Psalm 113:7-9).
We are in a small way trying to bring a little hope and, encouragement throughout the regions of the country we serve. We have been able to help several thousand families with immediate relief. Our skill training centers in rural communities have been mobilized to produce masks for distribution. The doors of our Life Centers always remain open and used to meet the spiritual, emotional and physical needs of people in the community. We continue to provide sustenance and support to children and their families under our care. Their neighbors are also being helped. Every small effort and every small contribution is quite significant in making a difference in times such as these. We may not be able to lighten the burden of millions but surely we can walk another mile with one more brother. We may not be able to light up the entire world but surely we can light a candle in the dark corners where we are placed. It is with this conviction that we are facing and overcoming this crisis. It is because of your prayer, support and because we stand in solidarity as members of God's family that we are able to do this. Needless to say we are facing this storm with the empowerment and enabling power of the Holy Spirit and the compelling love of Jesus and ever reminded of His words: "I am with you always" and 'I will never leave you or forsake you." It is in His name and on His behalf that we are called to serve. It is also encouraging to see God mysteriously working in these dark moments and to be able to join Him in what He is already doing. I believe when all this is over, and we return to whatever is defined as normal, thousands of strong disciples, Ephesians 4 type equipped ministry leaders and a renewed and robust Indigenous Church will emerge. This is our vision, hope and prayer.
But then, there is some good resulting from every crisis. Well, that is my general perspective on any crises and that includes the present pandemic as well -literally, an invisible virus that is challenging and shaking up almost every aspect of life in the entire world. It has shown no regard for nationality, class, color or creed. Although it is a crisis primarily related to health, it has posed a series of defying economic, social, religious and political challenges with a domino effect. 'Social distancing' has become a norm and a new way of life. 'Economic recession' is inevitable. The consequences of shut downs, isolation, drastically increasing unemployment and other serious issues cause deep concern about the present and the future. So, what is good about all this? I am reminded of a statement made by India's first Prime Minister Jawaharlal Nehru during a time of national calamity: "Crises and deadlocks when they occur, have at least this advantage, they force us to think."
Seriously, when we come to grips with the reality that at a time when the world seemed to be spinning thoughtlessly and selfishly at a frenzied, break-neck pace, it seems as though nature in its own way has brought humanity to a standstill, forcing us all to think, ponder, reflect and retrospect. The time we live in seemed to be turning into the 'terrible times' according to the Apostle Paul's description:
"People will be lovers of themselves, lovers of money, boastful, proud, abusive, ungrateful, unholy, without love, unforgiving, slanderous, without self control, brutal, not lovers of the good, treacherous, rash, conceited, lovers of pleasure rather than lovers of God, having a form of godliness but denying its power. . . "1
Living in ignorance of the deterioration of human values in my estimation is the greatest of human crises. This crisis is more detrimental and long lasting. Not many are seeking a solution to this crisis with the same level of urgency that the COVID pandemic is attracting. Beyond any question, human life is invaluable and no effort is too small to safeguard it. Undoubtedly, it is critical to take measures that are urgent and important to address the current pandemic.
For the Church globally, this most certainly is THE time to reflect more on the fundamental values of the Kingdom that Christ proclaimed and summarized in the Prayer our Lord taught His disciples:
Humanity cannot survive without mutual understanding, help, co-operation, interdependence and harmony. That is how we were created to be.
The moral, spiritual and ethical values that are shaping and directing our cultures require constant review, renewal and regeneration.
Our true and significant priorities of life must always be built on humanity in the sense of compassion, charity and generosity.
The underpinnings of God's Kingdom – Justice, Righteousness, equality, love and peace are intertwined and none of these can seek or find exclusive existence.
Inasmuch as I miss the large gatherings and weekly fellowship with Believers, the present inability of Christians to get together for worship as we have normally done, does not cause great concern for me. Even through this unusual new experience is God pointing out to the Church what It really should be? Is God trying to turn the Church back to its original form and function to when it was birthed after the powerful experience of Pentecost? Is God trying to demonstrating what it means to truly worship God with all your heart in the setting of a small family gathering devoid of all distracting structural, institutional and corporate frills? Is God trying to call the Church out from all its trappings that have to return to the basics?
It is time to search and find some honest answers.
Some people have said this is God's judgement. A few proclaim the 'end time'. Personally, I do not believe it is either of those. This is a time to think and time for a positive response. Finally, as it is often observed, every crisis does have a 'silver lining' to it. The confluence of challenge and opportunity is what a crisis essentially is. We are striving at a historic cross road. The turn we make and the road we choose to take for the future journey—the longed-for fresh and new tomorrow—will determine whether this invisible virus will make or break us.
You are constantly remembered in prayer specially at this time.
Sam Stephens
1 The Holy Bible : New International Version. electronic ed. Grand Rapids : Zondervan, 1996, c1984, S. 2 Ti 3:1-5