Building sustainable communities
July 22nd, 2020 by IGL Admin | | Posted in Field Updates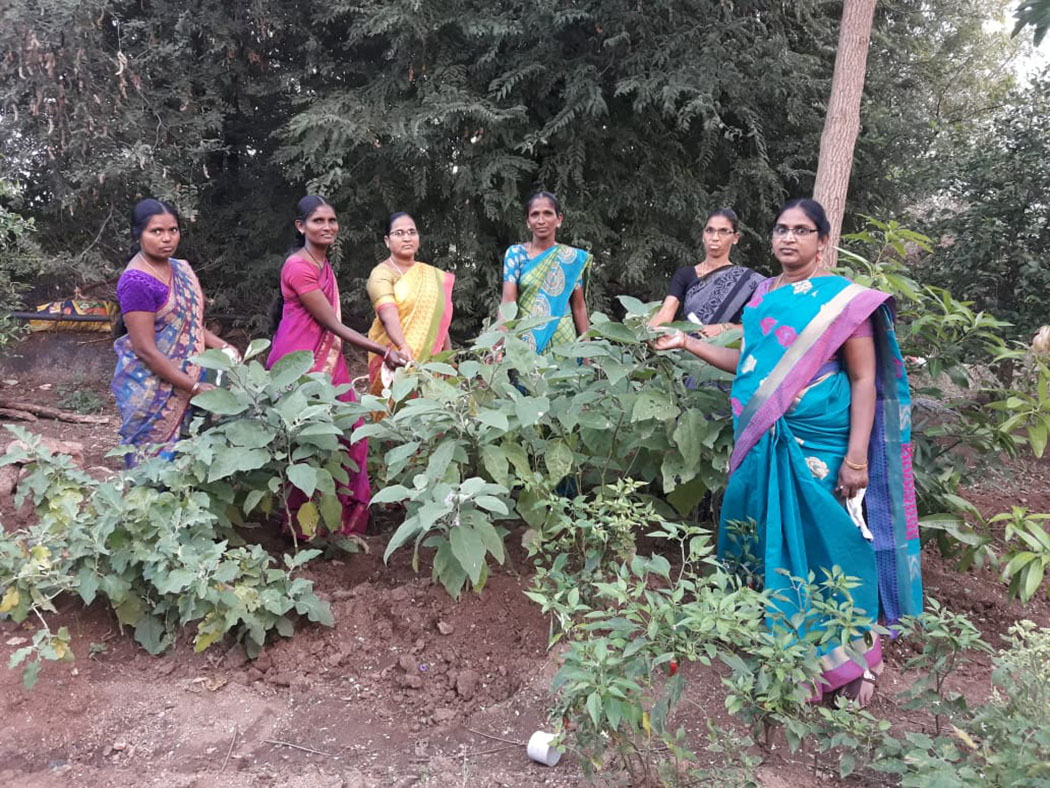 IGL is currently working toward stronger, sustainable communities. Through skills training and microcredit loans, IGL is setting people up from relying on relief to a sustaining, longterm recovery. Throughout June, in places like Bihar, pastors trained their congregants on cottage industries. Microcredit loans were distributed to help start businesses and help people get back to work.
Kitchen Gardens The Irular Colony is a good example of families learning to develop a sustainable and stronger community. Classes were held on planting and maintaining kitchen gardens, as well as the making of pickles, soap and detergents. We found 25 families maintaining gardens and they were not only able to sustain themselves but shared the produce with their neighbors. In addition, five women who are part of the Women's Transformation Group took the initiative to prepare homemade snacks and sell them in their village.
Microcredit loans There were six women who bought cows with IGL's microcredit loans and by selling the milk were able to sustain themselves even though they couldn't go out and work. This has inspired other women to produce and sell locally to enhance the village economy and become sustainable.
New Strategy  By now you may have read or heard about Operation HOPE as we have shared about it on social media and in emails. But if you haven't read about it, here's the back story. It began back in November 2019, when IGL celebrated the planting of 100,000 churches across India. A reached goal worth celebrating but what's next? 'ACHIEVE 2040'—A Church In Every VillagE by 2040. Strategic priorities were outlined to accomplish this God-sized vision.
One of those priorities was to implement "Houses of Prayer Everywhere,"—Operation HOPE. It was critical to initiate this house prayer movement as persecution against Christians and minorities was intensifying, and has increased even more since May*. There was and still is every chance that the indigenous church will be driven underground. Over the last three months, amidst the lockdown, when churches could not gather, Operation HOPE gained tremendous momentum.
Rekha Kumari from Buxar is a new believer. Before Christ, she was a staunch Hindu. She accepted Jesus as her personal Savior after experiencing a miraculous healing that no doctor or medical care could afford her. Today she is an active believer, eager to know and proclaim the gospel to her neighbors. With the lockdown in place her local pastor introduced her to Operation HOPE. She now gathers with her family, reads the Bible and prays every day. The Lord has helped her to understand the scriptures and she in turn shares it with her family and neighbors. Today, her house of prayer is a beacon of light in the community and many continue to hear the life—giving words of Christ. Today it is estimated that nearly a million people across India in different regions are part of Operation HOPE.