EARTHQUAKE HITS SOUTH ASIA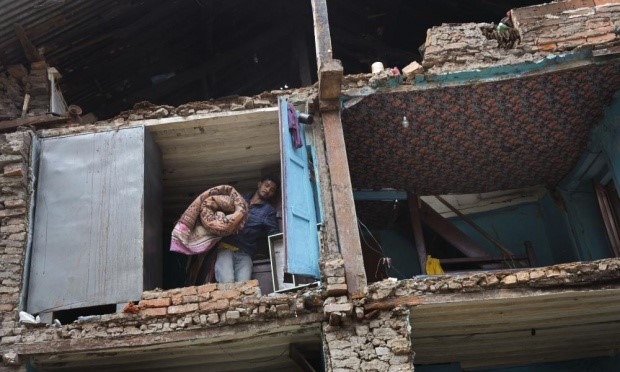 A devastating 7.8 level earthquake hit South Asia last weekend, killing thousands and destroying homes and possessions across Nepal and Northern India. At the last count 5,000 have died in Nepal and 80 in India. But beyond the initial devastation and ruin from the earthquake, the people of Nepal are only beginning to face other life-threatening problems, making recovery even more challenging. Because of the instability of the buildings, people have moved out onto the streets. Lack of sufficient tents and make-shift shelters are leaving many without protection from the rain and other elements. However, the chief concerns are the availability of water and food supplies, which are quickly diminishing.
Recently one of IGL's Zonal Coordinators, Pastor Johnson, visited rural villages in Nepal for five days providing supplies and assessing the situation on the ground. He was overwhelmed by the devastation he saw: homes and buildings leveled to the ground, countless people who have lost loved ones, survivors living in fear and grief, homelessness, over-crowded hospitals and aid workers still searching for more survivors.
During his travels Pastor Johnson noticed that the majority of the humanitarian aid was focused in urban areas, leaving the rural villages in dire need of help. On his way to one remote village, he met an 8 year old boy, Santhosh, and his mother walking to another town in hope of finding medical care. Santhosh had fallen and fractured his hand while running out of his home that was on the verge of collapse. Unfortunately, medical aid had yet to reach their village, so they were forced to walk to the nearest medical post nearly four miles away.
This boy's story is becoming a familiar tale as relief workers struggle to provide care to the tens of thousands who have been affected by the devastating earthquake.
Everywhere Pastor Johnson and his team visited, they met with the local congregations: praying with them, listening to them recount the horrors they had to endure, counseling and encouraging them in Christ. And because of your gifts they were able to provide relief kits containing carpets, candles, blankets, tarpaulin, match boxes and rice. But this is only the beginning of this seemingly insurmountable task – there is so much more relief that needs to be provided to villages that have yet to be reached with aid. IGL has pastors on the ground ready to provide relief to victims in Southern Nepal, specifically rice, waterproof carpets, blankets and more. You can help us provide much needed aid to those who have not yet received any.
IGL will also be focusing on long-term restoration efforts that will include Adopt-a-Village programs, a five-year process of holistic development that includes training and equipping believers, establishing centers and schools for children, vocational and skills training programs and empowering the community spiritually, socially and economically.
Stay tuned on our social media and email updates as we will continue to provide updates from the field on the effects of the earthquake and the relief being provided. Meanwhile, please pray with us for those whose lives have been turned upside down.
Prayer Requests
Pray for the children who have lost parents and everyone who has lost loved ones that they would find comfort in our Lord.
Pray for the pastors and congregations in Nepal who have lost members and loved ones that they would find comfort in Jesus.
Pray for the safety and protection of people who do not have shelter from the elements.
Pray for the recovery of the people affected that this would bring many to know the Lord as their personal Savior.
Ways you can help
Pastor and Family

Child Care

Grief Counseling and Prayer Gathering

Care Package