The Kairos Moment
By Samuel Stephens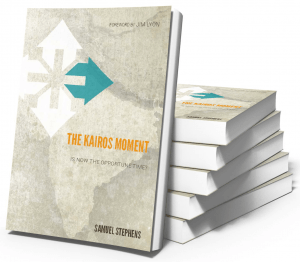 When Jesus walked the earth, he repeatedly said, "My time has not yet come." Then, when the right – opportune – time came, he said, "The hour has come for the Son of Man to be glorified." Jesus experienced one of many "Kairos moments" (an opportune time) at the end of his life – an opportune time for him to become a ransom for many.
And in his new book, The Kairos Moment, Sam Stephens describes what he believes is a nationwide kairos moment in India today – where doors are open, where people are receptive. In the last 25 years, India has seen such growth in the church, multiplication in the church, as never before in its lifetime – as never before in the history of missions, as never before in history at all. There is a huge wave of God, the Holy Spirit, sweeping across the nation and the whole region of South Asia. In the last two decades in India, it is estimated that more than 30 million people have come to Christ. There are nearly 8,000 baptisms every day!
When we hear statistics like these, when we hear stories about how God is moving, what do we do? How should we respond? Sam's book encourages us to seize the opportunities God is presenting to the church today before it is too late.
Read more about God's work across South Asia and about how you can recognize and respond to your own kairos moment. To order a copy of The Kairos Moment today call 888.352.4451 or click here.
$8 suggested donation
$3 each for bulk orders of 10 or more.
Ways you can help
Order Copies

Pastor Sponsorship

Training Material

Equip Pastors