Women With A Mission (WWM)
Wherever substantial numbers of women have come to faith in the Lord, entire communities have experienced significant transformation in every aspect and dimension of life. This is why IGL invests substantially into the lives of the women in rural India.
In the Indian culture, women have been traditionally viewed as less than human. Thus, most women in the Indian culture live with a low self-image and a deep sense of inadequacy and helplessness. But through Christ, these women are finding true hope, freedom from oppression and a God who considers them his daughters. The Women with a Mission (WWM) movement is helping women flourish as they find significance and purpose in building God's kingdom.
To date, 60,000 women have committed to preaching the gospel, strengthening their local churches and discipling younger women. The women leaders and organizers work alongside the local pastor and church, using their special gifts to complement those of the men. WWM organizers will also help carry out India Gospel League's Adopt-a-Village and Adopt-a-Region programs (holistic programs tailored to care for an entire village or region through evangelism, medical care, child care and rural and economic development efforts over the period of five years).
---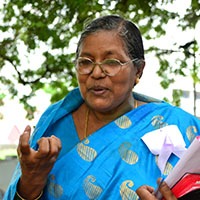 WWM Organizer Sponsorship
The Women with a Mission (WWM) program is focused on raising women leaders in South Asia, to strengthen local churches and help in their outreach to the community. You could support this movement by sponsoring one of the WWM organizers. Your monthly support will help cover the costs of time and travel as the area organizer trains, equips and encourages women leaders in surrounding villages.
Start a Pledge
---