Children's Gospel Clubs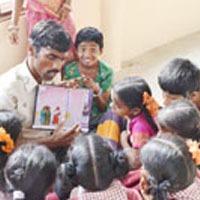 Just $1 sends 1 village kid to a Children's Gospel Club, a unique opportunity to reach the least-reached people groups on earth with the message of Christ! Will you consider helping to provide discipleship for 1 child for 1 whole year?
$1
Choose a quantity.
Give Now
---
Every spring we begin a new round of Children's Gospel Clubs (CGCs), which combine the best of VBS and Sunday School together, forming a discipleship program that meets weekly for an entire year!
CGCs offer hope in a land plagued by poverty, disease and spiritual darkness. Children who attend a club will not only learn about Jesus, they'll be encouraged to share Him with their families and friends. This creates a lifelong impact, and can ripple through families and villages. Some of our CGC attendees have even grown up to become IGL church planters!
In 2017 we trained more than 80,000 teachers and leaders for our clubs. We even translated the club materials into 11 different languages! And we discipled 870,000 children through 17,400 clubs in some of the most unreached regions on earth! Just $1 is all it takes to give a child in India a whole year of Christian discipleship – this includes not only sharing the gospel message, but also training in theology, Christian living and Bible stories. Click the arrows on the picture below to see 2017 club photos!
Testimonies from 2017 CGCs
"Before attending the CGC I used to get angry to everyone, but after attending CGC I started to love everyone and making friendship with everyone. CGC helps me to understand my friends and their attitude. Now I love everyone without any partiality and I am living as a good example to everyone. Thank you, and I love CGC."

- Aarthi, age 14, CGC Student

"Through my friend I came to know CGC, she brought me once here, and the very first itself I started love Christ. From then, I was a regular student to CGC. This year God raised me to be a teacher and I got trained in our regional training. I'm so thankful to God for this great growth in my life. I am so excited to be a teacher. CGC helps me learn Gods plan and purpose in my life."

- Shalini, age 16, CGC Teacher

"First of all, I have learned and understood the importance of children ministry. Secondly, these teachings on methods really helped me to teach to the children in my church. Moreover, this meeting will help me to convey the God's Word to children in an easy manner. I am thanking God for this wonderful opportunity."

- Usha, age 20, CGC Leader
Goals for 2018
Directors to be trained: 200
Leaders to be trained: 1,740
Teachers to be trained: 77,200
Children to be enrolled: 965,000
Clubs to be formed: 19,300
Materials to be produced in: 12 languages
India Gospel League would love to be your partner in global children's missions. Below are ways you and your church can get started.
Pray for Kids in India

When you read the Bible:
Pray CGCs would bring God's Word to every single village in India.

When you have a meal:
Pray all Indian children would have clean water to drink, enough food to eat and medicine when they are sick.

When you pray before bed:
Pray all the India families would worship Him as the one true God.

When at Church:
Give thanks for all the volunteers who teach our children and the children in India about Jesus.
Ways you can help
Order CGC Kits

Send a Child to a CGC